#WinTheDay - Small Group Training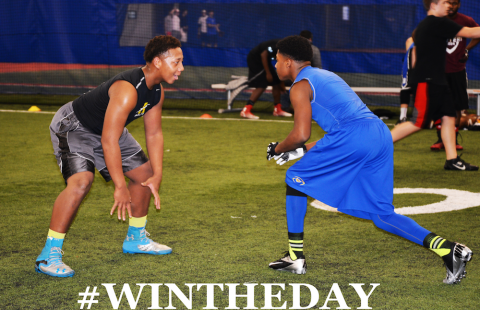 #WinTheDay is our small group position training for Bo Jackson Football.  Together with TNC University and The Quarterback Farm, Win The Day brings together several of the top coaches in the Chicago area to provide world-class training for our athletes.  Win The Day is a mindset.  It's an attitude.  It's a burning desire to be the best.  #WinTheDay is for experienced youth, junior high, and high school football players who want to develop their skills and get bigger, stronger and faster.
Four small groups are offered:
DETAILS:
Option 1 – Football instruction only: $150
6 weeks, 1x/week – $150  OR 6 weeks, 2x/week – $240
Tuesdays (6:00pm – 7:00pm) and/or Saturdays (8:00am-9:00am)
60 minutes of football instruction

Option 2 – Football Instruction + Sport Performance: $325
6 weeks; 2x/week
Tuesdays (6:00pm-8:00pm) and Saturdays (8:00am-10:00am)
60 minutes football, 60 minutes Sports Performance Training
2017 Sessions – Tuesdays & Saturdays – January 10th – May 13th
Tuesdays 6pm-8pm & Saturdays 8am-10am
Contact Director of Football Operations, Ryan Baise, rbaise@bojacksonselitesports.com for more information.