2017 Perfect Game National Indoor Hitting League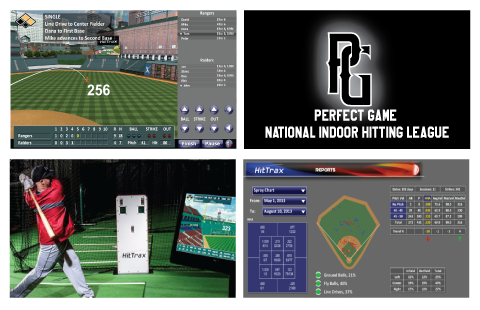 Program description:
Cangelosi Baseball will join Perfect Game USA for their 3rd annual National Indoor Hitting League. This league has grown from 3 facilities in year one, to over 10 facilities in 2017. The Perfect Game National Indoor League (PGNIL) allows players of all ages to compete against each other all over the country, year round. The PGINL uses today's most up to date technology (HitTrax) to measure exit velocity, batting average and many more statistics for every player in the league. Our HitTrax cage features a 50″ LCD TV, which allows players and teammates to see the flight of the ball and how hard you hit it. This top of the line technology allows teams to compete against each other in 7 inning games.
Program details:
Six-week competitive regular season (double header each day)
Teams consist of 3-5 players
Can sign up individually or by team
Single elimination regionals and national playoffs for qualifying teams
Regional and National player and team awards
National player exposure on Perfect Game website
Perfect Game player profile
Dates:
Regular season: Sunday, January 8th to Sunday, February 12th (6 weeks)
Regional playoffs: Saturday, February 18th and Sunday, February 19th
National playoffs:Saturday, February 25th and Sunday, February 26th
Sessions:
12u (Metal bat)- Sundays 9:00a-11:00a
14u (Metal bat)-Sundays 11:30a-1:30p
*Schedule will be released 5 days prior to the league beginning. Teams will play for one hour during the above time slots. These game times will differ from week to week for each team.
Price: $99 per player ($90 for Cangelosi Members)
PLEASE NOTE: If you would like to be on the same team as another registered player, please make a note of it in the comments section of the registration page. If you want to sign up as a team please contact Tyler Thompson at (815) 221-6002 or Tyler@cangelosibaseball.com.