home / Sports & Programs / Cangelosi Baseball / Adv INF Christmas Camp featuring Michael Massey and Tyler Thompson
2022 Advanced INF Christmas Camp
Featuring Michael Massey & Tyler Thompson
Michael Massey and Tyler Thompson team up to deliver a 4-day advanced INF camp over Christmas Break!  The goal of this camp is to give players confidence to have a bigger zone for the routine play. Every level you move up in this game, comes a greater responsibility. This camp will challenge your skillset, your mental preparation and your mental clock as we run players through competitive drills that prepare them for the highest level.
Massey played his entire travel career for the Sparks prior to becoming a college standout at University of Illinois. Massey was selected by the Kansas City Royals in the 4th round of the 2019 MLB Draft. As a sophomore at Illinois (2018), Michael was named winner of the ABCA/Rawlings Gold Glove Award. In November of 2021, Massey was awarded the Minor League Gold Glove (2B) as a member of the Quad City River Bandits (KC Royals High-A).  In 2022, Massey earned a starting spot on the Kansas City Royals Major League roster!
Tyler Thompson has been the Director of Baseball Operations at Cangelosi Baseball since 2013 after playing collegiately at Joliet Junior College and Robert Morris University.  Tyler won a NJCAA World Series as JJC as a player in 2008 and a coach in 2012.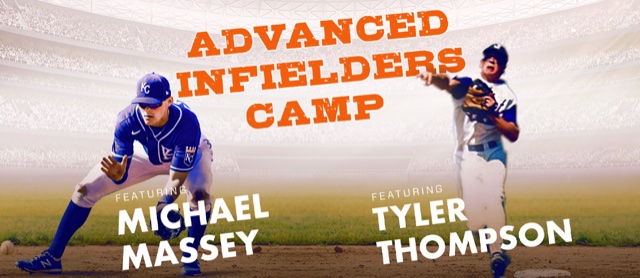 Format
NOTE: Limited to 20 spots per session! 
Details & Pricing
Ages:
11-12 year olds 1:00-2:00pm
13-14 year olds 10:00-11:00am OR 12:00pm-1:00pm
High School  11:00am-12:00pm
Dates: Tuesday, December 27th-Friday, December 30th (4 days)
Price: $165 ($148.50 for Cangelosi Members)