The Youth Sport Epidemic: Parental Involvement
home / Baseball / The Youth Sport Epidemic: Parental Involvement
The Youth Sport Epidemic: Parental Involvement
Written by Michael Deegan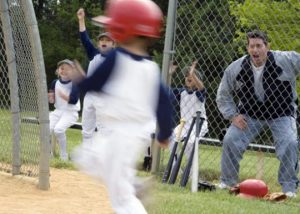 We pulled up for my sons first "all-star tournament" a few weeks ago.  He's seven.  It was a beautiful day for baseball; low 80's with bright sun.  As we walked to the field and past much bigger kids with matching bat bags (my son is mesmerized by this) and the names on the back of their uniforms I could sense my guy was nervous.  My wife and I said the right things, "Have fun." "Do your best." "We love you." In his first at-bat he struck out and I could tell he was down.  When he went in the field he was out of it.  His attitude was poor. He even cried when he was tagged out at one point.  I could feel my blood starting to boil.  Then it happened.  I became "one of those parents" shouting out instructions from behind the fence.
I'm embarrassed.  I know better.  For years I've witnessed overbearing parents rob children of the pleasures of playing sports by being overly involved and making the experience about them.  I know how to act.  I know that sports at seven have no bearing on just about anything.  Nonetheless, I was angry.
This is a tough article to write.  I'm riding the fence on this one.  I've heard the advice that after the game all you should say is, "I love watching you play." Or, do you want to get a cone or a sundae?" But here's the question, what if you didn't love watching them play?  What if your son or daughter's behavior and effort did not warrant praise?  Entitlement is the buzz word recently.  Isn't giving a person a reward without the effort the very definition of entitlement?
Please allow me to share with you how Lowrie and I worked through this issue with our son.  I have no idea if we were right; there is no manual on this one.  Here are the steps we took in handling this "first world" issue.
1. Paused: We had over an hour in the car following the game.  We did not praise him for his effort or tell him that he we loved watching him play.  However, we made the decision not to attack either.  Instead, we just went about our business as usual; we ate, listened to music, and did the typical things a family of six does on a ride (stop kids from crying, hand out snacks, etc).  I won't lie.  I had to bite my tongue.  His behavior was unacceptable; I was embarrassed.
2. Self-Analyzed: Why was I so mad and embarrassed? Let's be honest, because of my position there is an expectation that my son would be a great player.  And, I write and communicate frequently about doing the right thing, behavior, and sportsmanship.  Was this about him or me? I would be lying if I said that my ego wasn't bruised.  After much reflection, I realized a lot of this was about me.  Sure, his attitude was unacceptable; it needed discussed.  However, I needed to put aside my baggage before we moved on.
3. Formed a Game Plan: Lowrie and I talked.  Our son is timid; this is a lot for him.  He's seven.  He doesn't have the skills to cope with many of these things.  With that being said, we agreed that his behavior and attitude were not acceptable.  Regardless of the circumstances, he is capable of running on the field, putting forth effort, and following the directions of his coaches.  We concluded that he needed a stern discussion in private about this from me.  I needed to grab his attention.
4. The Talk: I went into "Coach" mode. I sat him down, made him look me in the eye and I told him that we were disappointed in his behavior and gave specific examples.  I explained that it has nothing to do with striking out, missing a pop-up or any other baseball type of thing.  From this day forward his goals were to: hustle on and off the field, be a great teammate, and always look at his coaches when they speak.  Those three goals Lowrie and I believed were age appropriate.
5. The Hug: This was a difficult conversation.  I love that boy so much.  He cried.  It was an emotionally challenging day.  When I felt the time was right, I asked him for a hug.  We embraced.  We were both glad it was over.
Forgive me, I know how ridiculous this article is; I really do.  Did I mention the kid is seven?  I should be happy that he is healthy, active and able to participate in sports.  I write this, however, because I know that many people struggle with the youth sport culture.  I've seen several games this year and it is incredible how emotionally charged the parents get.  We can't be the only family wrestling with this internal battle.
Update
We have no idea if we went about this the right way.  Maybe, at seven, this is all too much for him.  Maybe we should have just ignored the behavior and went with the canned response, "We loved watching you play" following his poor effort. I am happy to report that my son has been much better the past two weekends.  He has his slip-ups, however, he has done a great job of achieving the three goals that we set out for him.  In fact, he went without getting on base today, but he hustled and cheered his teammates on.  It felt good for me to tell him that I was proud.
Conclusion:
Have you noticed how many coaches, parents, and other leaders of the community readily discuss the issue of overbearing parenting?  Have you also noticed that these same teachers, coaches and community leaders are often overbearing parents themselves?  It's the old, "do as I say, not as I do." We have a responsibility to set the standard. Alignment is critical; our actions must match our words. We cannot scream from our pulpit the entitlement epidemic at work, and then be the yelling, screaming obnoxious parent when it comes to our own children.  Mistakes happen, I know I have been embarrassed by my actions.  Raising a child is hard; I'm sure this will not be my last error. However, I have made the choice to be better in the future.
Please join me this week in being leaders in the movement of parenting in the youth sports culture.  Things must change.  Pointing the finger at others isn't going to help.  We can make a difference by modeling positive parental behavior.
Let's be leaders of change this week,
Mike
All Blog Posts